EVGA

EVGA NU Audio Card, Lifelike Audio, PCIe, RGB LED, Co-Engineered by EVGA and Audio Note
Overview
Introducing the EVGA NU Audio PCIe Card, the definitive standard for Premium PC Audio. High-quality audio is built on a simple premise: everything must be solid from start to finish. One weak link in the chain can turn a symphony into a cacophony. With this in mind, EVGA partnered with Audio Note (UK) to select audiophile-grade components and carefully craft the NU Audio card. Starting with the XMOS xCORE-200 chipset, we added a Premium AKM DAC capable of up to 123dB DNR/SNR.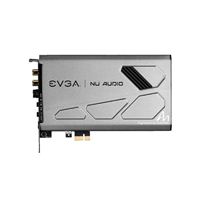 EVGA NU Audio Card, Lifelike Audio, PCIe, RGB LED, Co-Engineered by EVGA and Audio Note
Usually ships in 5-7 business days.