BLU BLU C6 Unlocked Smartphone

5.5" IPS LCD Display; 1GB RAM/16GB Storage; Mediatek MT6580 Quad Core 1.3 GHz CPU; Android 8.1 - Black
Overview
5.5" IPS LCD Display
1GB RAM/16GB Storage
Mediatek MT6580 Quad Core 1.3 GHz CPU
Android 8.1 - Black
The C6 was crafted with a brilliant metallic paint finish for a great look and handheld experience. Paired with a black or white curved glass display, BLU has designed an aesthetically pleasing phone that is both functional and beautiful.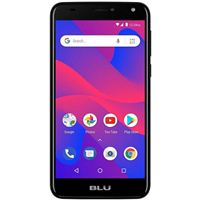 BLU C6 Unlocked Smartphone

5.5" IPS LCD Display; 1GB RAM/16GB Storage; Mediatek MT6580 Quad Core 1.3 GHz CPU; Android 8.1 - Black
Usually ships in 1-3 business days.