Anker Anker eufyCam Add-On Wireless Security Camera

Indoor/Outdoor; 1080p Resolution; 140 FOV; 33 ft. IR Range
Overview
Indoor/Outdoor
1080p Resolution
140 FOV
33 ft. IR Range
WiFi Connectivity
Battery Powered
Constructed from cutting-edge ASA composite material, which offers unrivaled strength and protection against the elements. eufyCam works perfectly indoors and outdoors. Whether it is raining, freezing winter, or scorching summer, eufyCam will keep watch over your home.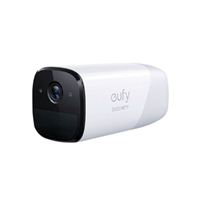 Anker eufyCam Add-On Wireless Security Camera

Indoor/Outdoor; 1080p Resolution; 140 FOV; 33 ft. IR Range
Usually ships in 1-3 business days.