ASUS

ASUS VG279Q 27" Full HD 144Hz DVI HDMI DP FreeSync LED Gaming Monitor
Overview
Designed for intense, fast-paced games, the ASUS VG279Q is a 27 Full HD gaming IPS display with an ultra-fast 1ms (MPRT) response time and blazing 144Hz refresh rate to give you super-smooth gameplay. The VG279Q features Adaptive-Sync (FreeSync) technology to eliminate screen tearing and choppy frame rates.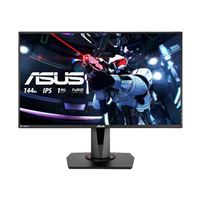 ASUS VG279Q 27" Full HD 144Hz DVI HDMI DP FreeSync LED Gaming Monitor
Usually ships in 1-3 business days.