Sengled

Sengled Element Plus 60W Equivalent Soft White to Daylight A19 Dimmable LED Light Bulb
Overview
Sengled Element Plus Bulb is intended to be used with a compatible smart home hub such as Sengled Element or Samsung SmartThings. Element is a lighting system that lets you illuminate your home anytime, anywhere. Simply add the Element bulbs to the hub. In addition to ON/OFF/DIM, Element Plus bulbs can also change color temperature (2700K - 6500K). Element Plus bulbs also work with most wall dimmers without flickering or burning out. Use the app or your voice through Amazon Alexa to control the lights. Check the status of each light in the app and turn it off remotely. Use the Sengled Element app to view energy stats of your system. Turn off lights during peak hours to cut down on your electricity bill. Sengled Element is integrated into various existing Smart Home ecosystems. The hub and bulbs works with AT&T Digital Life and Stringy, while the Element bulbs are certified to be used with iControl and SmartThings. Sengled is committed to planting a tree for each Element bulb sold to offset the carbon emission from using the bulb. Learn more by searching one bulb one tree.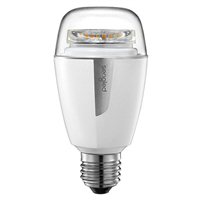 Sengled Element Plus 60W Equivalent Soft White to Daylight A19 Dimmable LED Light Bulb
Usually ships in 1-3 business days.