EKWB

EKWB CryoFuel Pre-Mixed Coolant 1000 ml - Clear
Overview
The EK-CryoFuel is a new revolutionary coolant for PC liquid cooling systems. EK-CryoFuel is the most chemically stable coolant that provides enthusiasts and gamers with the best possible level of performance and thermal efficiency with emphasis on color stability. EK-CryoFuel coolant is a pure, non-toxic coolant based on the patent pending chemical formula, which prevents the creation of any sediments in the liquid cooling loop.
See Other Water Cooling Coolants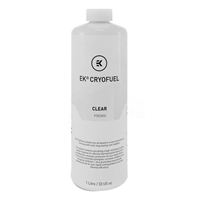 EKWB CryoFuel Pre-Mixed Coolant 1000 ml - Clear
Usually ships in 5-7 business days.