Bloody Gaming

Bloody Gaming A90 Optical Gaming Mouse and Mouse Pad Combo
Overview
Innovative Light Strike optical switches and hyper-speed mouse wheel provide you blazing fast responsiveness. Stay one step ahead of your opponent by using infra-red beams instead of mechanical metal components to actuate crucial commands. Combine with Bloody Light Strike optical keyboards for a true 1:1 raw input and compete at Light Speed. Play with total accuracy and control with adjustable 4000 CPI/DPI. Change up on the fly with profiles and presets. [X'GLIDE ARMOR] This exclusive upgrade adds durability for the mouse feet and improves the skate and glide of your mouse. Improves your ability to stay agile. Best paired with Bloody Gaming Pads/Surfaces to make your gaming mouse glide like butter.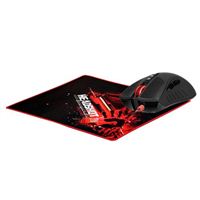 Bloody Gaming A90 Optical Gaming Mouse and Mouse Pad Combo
Usually ships in 1-3 business days.