Micro Connectors

Micro Connectors 7-pin SATA Female Connector to 7-pin SATA Female Connector SATA III Data Cable with Locking Latch 2 Pack 40 in. - Black
Overview
Micro Connectors Sleeved SATA III data cables are great for decorating your system's SATA devices. With its high quality data wiring wrap in a flexible 100% heatshrink weave sleeving, these cables give you a clean and appealing look for your system.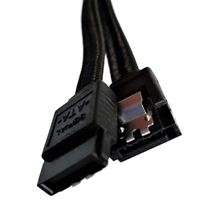 Micro Connectors 7-pin SATA Female Connector to 7-pin SATA Female Connector SATA III Data Cable with Locking Latch 2 Pack 40 in. - Black
Usually ships in 5-7 business days.