Corsair

Corsair AF140 White LED Hydraulic Bearing 140mm Case Fan
Overview
CORSAIR AF140 LED cooling fans combine bright LED lighting, strong static pressure, low noise and high airflow to deliver great cooling performance anywhere in your PC. Whether its as an intake or exhaust case fan, or mounted to a CORSAIR Hydro Series liquid CPU coolers radiator, AF140 LED fans provide up to 62 CFM of airflow where your system needs it most. Available in a choice of red, white or blue, AF140 LEDs four hub-mounted LEDs radiate vivid and diffused lighting across a specially designed opaque fan blade, illuminating your system with a brilliant burst of color.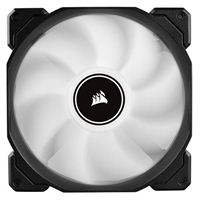 Corsair AF140 White LED Hydraulic Bearing 140mm Case Fan
Usually ships in 5-7 business days.