MSI

MSI Optix MAG24MVC 23.6" Full HD 144Hz DVI HDMI DP FreeSync Curved LED Gaming Monitor
Overview
View more of your gaming with the 1800R curve rate that is perfect for gamers to play their games. Experience smooth gaming with blazing fast 144hz refresh rate, that gives you the upper hand in fast moving games. Eliminate screen tearing and choppy frame rates with 1ms response time. Maximize your productivity and comfort with the adjustable stand. No more tearing and stuttering on the screen by making your graphics card and monitor work together.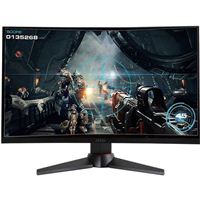 MSI Optix MAG24MVC 23.6" Full HD 144Hz DVI HDMI DP FreeSync Curved LED Gaming Monitor
Usually ships in 1-3 business days.