PowerSpec PowerSpec X601 Gaming Desktop PC

Intel Core i5-9600k Processor 3.7GHz; NVIDIA GeForce GTX 1070 Ti 8GB GDDR5; Microsoft Windows 10 Pro; 16GB DDR4-3200 RAM
NO LONGER CARRIED at Parkville Store

Overview
Intel Core i5-9600k Processor 3.7GHz
NVIDIA GeForce GTX 1070 Ti 8GB GDDR5
Microsoft Windows 10 Pro
16GB DDR4-3200 RAM
500GB Solid State Drive
The PowerSpec X601 Desktop Computer features the Intel Core i5-9600K unlocked processor kept cool to overclock by EKWB liquid cooling. This extreme performance gaming system is based upon the ASUS ROG Strix Z390E Gaming system board powered by an 750W Gold power supply with CableMod's ModFlex sleeving for vivid color and supreme flexibility. It is assembled in a Lian Li PC-O11 Dynamic Tempered Glass ATX chassis including RGB fans. For gameplay domination it includes NVidia GeForce GTX 1070Ti 8GB graphics card and 16GB of G.Skill High Performance Trident Z DDR4 3200 RGB RAM. In addition, the Windows 10 Professional operating system is loaded on a Samsung 970 EVO 500GB NVME M.2 SSD.
---
Eligible for Free Upgrade to Windows 11 when available from Microsoft
This device comes with Windows 10 and is eligible for a free Windows 11 Upgrade. The Windows 11 Upgrade will be delivered online to qualifying devices starting in late 2021 and into 2022. Timing will vary by device. Certain features require specific hardware requirements be met. See Microsoft Windows 11 Specifications and Requirements for additional information.
---
Fluid Essence
Man The Battlestation And Go Beast Mode!
Get the most out of every game with PowerSpec X-Series systems. Designed to deliver the ultimate experience, these rigs are rugged and brutal weapons as well as swift and balanced tools, in essence the perfect battlestation built with all of the essential tech to win the day whatever worlds you're conquering. Never feel the heat of intense action with liquid cooling in every fluid gaming PowerSpec system. Max out your FPS and go beast mode. Dominate the gaming realm!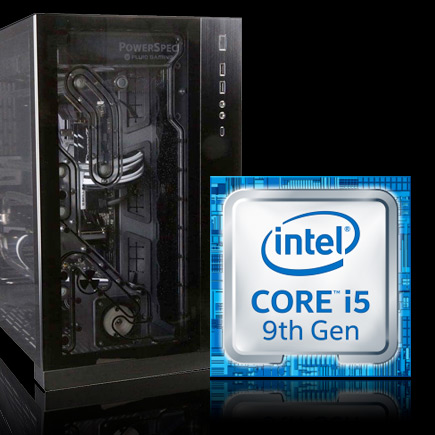 Intel® Core™ i5 9600K
The dynamic capabilities and efficiency of this unlocked processor make it well suited for gaming desktops. The Core i5 9600K is loaded with features like Turbo Boost 2.0, DirectX 12 support, thermal monitoring, and it supports up to three displays. It's also got 64 GB of graphics video max memory and 4K support at 60GHz. It has excellent performance and security features including, a base frequency of 3.70 GHz, a max turbo frequency of 4.60 GHz, 9MB of Intel Smart Cache, and 6 cores of premium processing power plus:
Optane Memory supported: Quick access to essential data
vPro™ Technology: Network manageability and security
Intel Secure Key: Data protection via encryption
Boot Guard: Protection from malicious software and attacks
NVIDIA GeForce® GTX 1070 Ti
The GeForce GTX 1070 Ti graphics card features incredible speed and power structured in its Pascal™ architecture. In addition to innovative gaming experiences, expect to discover 1607MHz base clock, 1683MHz boost clock, 2, 432 CUDA cores, 7680 x 4320 max digital resolution at 60Hz, and a 256-bit memory interface width. In addition, this cool card is VR and GameStream ready, it supports NVIDIA Ansel and G-Sync. The GTX 1070 Ti is well equipped to handle your favorite games and virtual reality adventures. Designed with 8GB GDDR5, 8Gbps memory speed, and you'll experience gameplay at a whole new level. The GeForce GTX 1070 Ti is stunning and sleek from every angle of its ultra modern design to it's advanced thermal interior, even running the most demanding games. It's compatible with Windows 7 - 10, Linux, FreeBSDx86.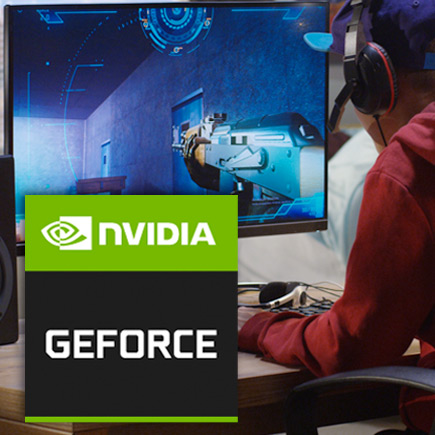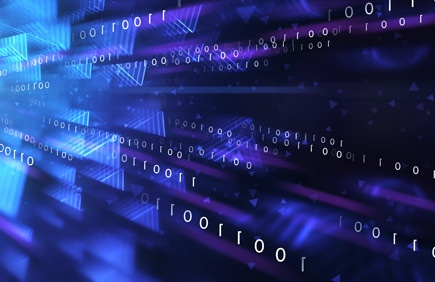 500GB Solid State Drive
More reliable and significantly faster than traditional spinning-platter hardrives, solid state drives work more like a large flash drive giving you quick access to your data. With no moving parts generating heat, solid state drives use less power and keep your system cooler which helps reduce component failure. Light weight and durable, solid state drives are often found in portable devices since they are less prone to travel damage and accidents like being dropped.
16GB DDR4-3200
DDR4 has improved function over DDR3 offering faster data transfer rates and more memory banks giving it increased capacity. It also requires less energy so it is more power efficient. The more capacity and the faster the speed, the better your memory is able to keep up with today's multi-core processors.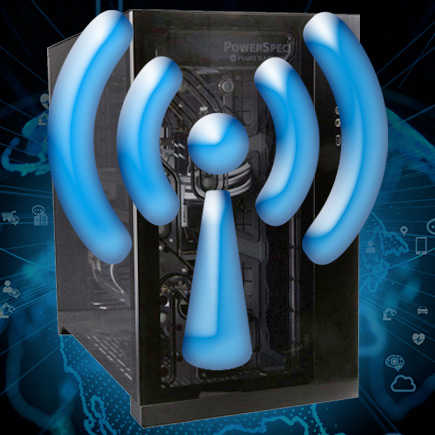 Bluetooth® 5.0
Designed to improve security for computers, mobile devices, and a host of other wireless technologies such as digital assistants, headsets, home audio equipment, and a growing menu of IoT devices. Bluetooth 5.0 features twice the speed and much greater range than its predecessors. It's more responsive and enables more data to be transmitted than previous versions.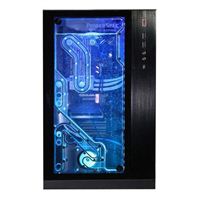 PowerSpec X601 Gaming Desktop PC

Intel Core i5-9600k Processor 3.7GHz; NVIDIA GeForce GTX 1070 Ti 8GB GDDR5; Microsoft Windows 10 Pro; 16GB DDR4-3200 RAM
NO LONGER CARRIED at Parkville Store