Mad Catz

Mad Catz The Authentic R.A.T. 8+ Optical Gaming Mouse - MR05DCAMBL00
Overview
Built for the most discerning user, the R.A.T. 8+ Gaming Mouse offers the ultimate in performance and comfort. Multi button functionality lets you take control of your gaming experience. An adjustable DPI button lets you increase or decrease the DPI instantaneously, up to 16000. The precision button instantly increases or decreases the sensitivity, perfect for in-game sniping. With the included desktop software, you can create unlimited profiles for your mouse while storing the top 4 on the mouse itself, keeping your load outs ready to go. An independent side scroll wheel is fully customizable within the included software, giving you even more control. The R.A.T. 8+, using the adjustable weight system allows you to customize the mouse weight to fit your needs. Create the perfect grip with the adjustable palm rest or swap it out for even more comfort and control. The adjustable thumb rest moves along two axes and the optional pinkie rest lets you create the ultimate ergonomic grip. And with industry leading OMRON switches, the R.A.T. 8+ can keep up with the even most furious clicker, with a 50 million click lifetime.
Learn More about the Authentic R.A.T. 8+ Gaming Mouse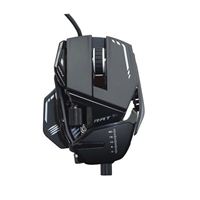 Mad Catz The Authentic R.A.T. 8+ Optical Gaming Mouse - MR05DCAMBL00
Usually ships in 5-7 business days.