PowerSpec PowerSpec G316 Gaming Desktop Computer

Intel Core i5-9600K Processor 3.7GHz; NVIDIA GeForce RTX 2070; Microsoft Windows 10 Home; 16GB DDR4-3000 RAM
Buy GTX 2070 video card or desktop, choose to get Battlefield V or Anthem

Overview
Intel Core i5-9600K Processor 3.7GHz
NVIDIA GeForce RTX 2070
Microsoft Windows 10 Home
16GB DDR4-3000 RAM
250GB SSD + 1TB HDD
The PowerSpec G316 desktop computer is a powerful gaming machine featuring the Intel Core i5-9600K Unlocked processor, ASRock Z390 Pro 4 System Board, a 250GB Solid State Boot Drive plus a 1TB Storage Drive, and an Nvidia RTX 2070 8GB discrete video card to provide an incredible experience playing the most demanding games in the market today! Note: This system is preinstalled with Windows 10 Home software.

Whether you're knee-deep in the trenches of Battlefield V™ or soaring through alien skies in Anthem™, NVIDIA® GeForce RTX™ delivers the ultimate gaming experience. Triumph over adversity with the new NVIDIA Turing™ GPU architecture and the revolutionary RTX platform. Game on RTX.
For a limited time, purchase a qualifying GeForce RTX 2080 Ti or 2080 graphics card or gaming desktop, and get both Battlefield V and Anthem. Or, pick up a qualifying GeForce RTX 2070 graphics card or gaming desktop and get your choice of one of these incredible titles. You can also get Battlefield V or Anthem when you buy an RTX 2060 video card.
*Terms and Conditions apply.
Offer good on qualifying products through February 25, 2019 or while supplies last. For promotion details and redemption instructions, visit: https://www.nvidia.com/en-us/geforce/campaigns/battlefield-v-anthem-bundle, or speak with your sales associate. Code may be used once. NOT FOR RESALE.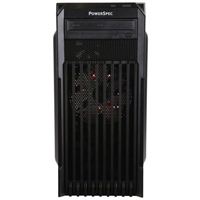 PowerSpec G316 Gaming Desktop Computer

Intel Core i5-9600K Processor 3.7GHz; NVIDIA GeForce RTX 2070; Microsoft Windows 10 Home; 16GB DDR4-3000 RAM
5 in stock at Fairfax Store
Located in Desktops►VIEW MAP