Razer Razer Phone 2 Unlocked 4G LTE Smartphone

5.7" IGZO LCD Display; 8GB RAM/64GB Storage; Snapdragon 845 Octa-core 2.8GHz CPU; Android 8.1 - Mirror Black
Overview
5.7" IGZO LCD Display
8GB RAM/64GB Storage
Snapdragon 845 Octa-core 2.8GHz CPU
Android 8.1 - Mirror Black
Meet the Razer Phone 2 - our all-new flagship phone with new features like wireless charging, water resistance, an illuminated Razer Chroma logo and an upgraded processor with vapor chamber cooling. It's both a flagship phone for everyday use and a gaming phone for incredibly immersive experiences.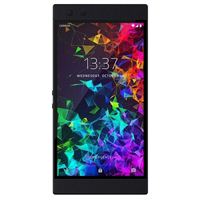 Razer Phone 2 Unlocked 4G LTE Smartphone

5.7" IGZO LCD Display; 8GB RAM/64GB Storage; Snapdragon 845 Octa-core 2.8GHz CPU; Android 8.1 - Mirror Black
Usually ships in 1-3 business days.