NetGear

NetGear XR700 AD7200 Quad Stream Wave2 Nighthawk Pro Gaming Wireless AD Router

Overview
XR700 Nighthawk Pro Gaming WiFi Router uses state-of-the-art software to optimize your Internet connection by stabilizing ping, reducing lag spikes, and keeping you in the game with reliable wired and wireless connectivity for fast-paced gaming. Personalize your gaming dashboard to view real-time bandwidth utilization by device, ping and many other parameters. Limit lag and get a guaranteed local connection with Geo Filter or enable Quality of Service for prioritized gaming devices and allocated bandwidth. VPN Client protects your network identity and prevents DDoS attacks. Blazing-fast 7.2Gbps WiFi speeds, Gigabit Ethernet ports, and a dual core 1.7GHz processor make online and network gaming frustration free.
Thinking of leaving your cable provider?

You'll find helpful articles and FAQs about cutting the cord in our Tech Center.
---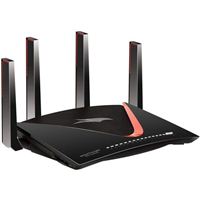 NetGear XR700 AD7200 Quad Stream Wave2 Nighthawk Pro Gaming Wireless AD Router
3 in stock at Cambridge Store
Located In Aisle 3►VIEW MAP