Dell Dell Inspiron 3670 Desktop Computer

Intel Core i5-8400 Processor 2.8GHz; Microsoft Windows 10 Home; 8GB DDR4-2666 RAM; 256GB SSD + 1TB HDD
Overview
Intel Core i5-8400 Processor 2.8GHz
Microsoft Windows 10 Home
8GB DDR4-2666 RAM
256GB SSD + 1TB HDD
Improve your home office with this Dell Inspiron PC. To handle your workload it boasts a powerful 8th-generation Intel Core i5 processor, 256GB solid state drive, and 1TB hard drive and 8GB of RAM. Stay connected to the internet or your cellphone with the included Bluetooth and wireless N functionality. Two USB 3.0 and four USB 2.0 ports make it easy to connect your peripherals.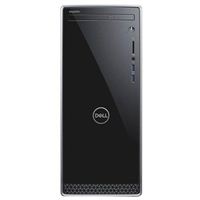 Dell Inspiron 3670 Desktop Computer

Intel Core i5-8400 Processor 2.8GHz; Microsoft Windows 10 Home; 8GB DDR4-2666 RAM; 256GB SSD + 1TB HDD
Usually ships in 1-3 business days.