Roku

Roku Premiere Streaming Media Player, HD/4K/HDR, Simple Remote, Includes Premium HDMI Cable
0 NEW IN STOCK at Cambridge Store

Overview
Incredible picture, with an even more incredible value. The new Roku Premiere is the simple way to start streaming in HD, 4K Ultra HD or HDR. Just plug it into your TV with the included Premium High Speed HDMI Cable and connect to the internet. With a short step-by-step setup and an easy on-screen experience, youll be watching in minutes. Use the simple remote to search for your favorite shows and discover thousands of free and paid channels to stream almost anything, including hit movies, popular shows, live TV, news and sports. Plus, with access to hundreds of free channels, theres plenty to stream without spending extra.
Thinking of leaving your cable provider?

You'll find helpful articles and FAQs about cutting the cord in our Tech Center.
---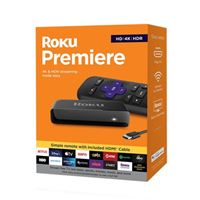 Roku Premiere Streaming Media Player, HD/4K/HDR, Simple Remote, Includes Premium HDMI Cable
0 NEW IN STOCK at Cambridge Store