Emerge

Emerge Mobile Gaming Joystick 2 Pack
Overview
Take your gaming to the next level with these mobile gaming thumb sticks. On screen touch controls can be clunky and inconsistent, but the thumb stick makes sure your skills are always on point. Plastic thumb sticks for on screen precision suction cup hold sticks in place Clear plastic blocks as little of the screen as possible. These iOS and Android gaming enhancers are perfect for popular games like Fortnite, PubG, Valnglory and TONS more.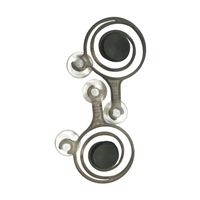 Emerge Mobile Gaming Joystick 2 Pack
Usually ships in 5-7 business days.