Accell

Accell DisplayPort 1.4 Male to DisplayPort 1.4 Male 6.6 ft. - Black
Overview
Accells DisplayPort to DisplayPort cable is verified by VESA to meet the latest standard. It provides a fast connection at up to 32.4 Gbps which is 1.5x faster than DisplayPort 1.2. One of the distinguished features added is the support for Display Stream Compression 1.2 which allows for display up to 8K resolution at 60Hz refresh rate and 4K at 240Hz. Another specification added is the support for High Dynamic Range video which captures a wider range of color bringing richer scenes to your eyes. The cable is downwards compatible with DisplayPort 1.3, 1.2, 1.1a, 1.1 and 1.0 which means support for many DisplayPort-enabled devices such as a monitor, projector, gaming graphics card, and TV.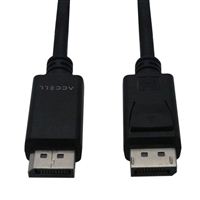 Accell DisplayPort 1.4 Male to DisplayPort 1.4 Male 6.6 ft. - Black
Usually ships in 5-7 business days.