ASUS

ASUS ROG Strix Advanced Gaming GeForce RTX 2080 Ti Triple-Fan 11GB GDDR6 PCIe Video Card
RTX Triple Threat. Buy Qualifying GeForce RTX, Get Up To Three Games.

Overview
The ROG Strix GeForce RTX 2080Ti teams up NVIDIA's A-list GPU with an elite cast of specialists, setting the stage for epic gaming action. Gargantuan power delivery provides the muscle to push overclocking boundaries, while cooling that's honed to perfection keeps the spotlight squarely on Turing's performance. And with an arsenal of utilities that allow you to customize and tweak this extreme hardware, you call the shots.

For a limited time, purchase a qualifying GeForce RTX 2080 Ti or 2080 graphics card, gaming desktop, or gaming laptop and get Battlefield™ V, Anthem, and Metro Exodus (an incredible $180 value!). Pick up a qualifying GeForce RTX 2070 or 2060 graphics card, gaming desktop, or gaming laptop and get your choice of one of these incredible titles.
NVIDIA® GeForce RTX brings you the most immersive gaming experience whether you're knee-deep in the trenches of Battlefield V, soaring through alien skies in Anthem, or surviving the harsh world of Metro Exodus
Real-time ray tracing brings cutting-edge, realistic graphics to mankind's greatest conflict. Be one of the first to explore Anthem, become a Freelancer chosen to fight against the chaos, and wield the power of your javelin to bring order. Immerse yourself in a stark and frightening post-apocalyptic world, brought to life with the stunning realism of GeForce RTX and DLSS.
*Terms and Conditions apply.


Offer available March 5, 2019 through April 4, 2019 or while supplies last. Qualifying graphics cards, desktops, or laptops: GeForce RTX 2080 Ti, GeForce RTX 2080 Ti desktop, GeForce RTX 2080, GeForce RTX 2080 desktop, GeForce RTX 2080 laptop, GeForce RTX 2070, GeForce RTX 2070 desktop, GeForce RTX 2070 laptop, GeForce RTX 2060, GeForce RTX 2060 desktop, GeForce RTX 2060 laptop. Game must be redeemed with qualifying graphics card installed. Customer must meet the age requirement for the game to redeem. Regional/Country Requirements: Some coupons require that they be redeemed in specific regions or countries they were purchased in. Please redeem the code in the appropriate region/country. Code may be used once.

For promotion details and redemption instructions, visit: https://www.nvidia.com/en-us/geforce/campaigns/rtx-triple-threat-bundle.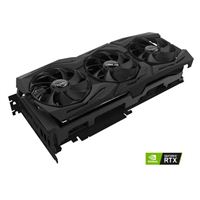 ASUS ROG Strix Advanced Gaming GeForce RTX 2080 Ti Triple-Fan 11GB GDDR6 PCIe Video Card
at Fairfax StoreSold Out