EKWB

EKWB EK-CryoFuel Solid 250mL Concentrate - Cloud White
Overview
EK-CryoFuel Solid non-transparent coolants are all based on a new patent-pending formula with vivid: long-lasting color stability. The coolant contains everything a high-end liquid cooling system requires for efficient thermal performance and providing the necessary protection for your water blocks. It carries the essential synergistic corrosion inhibitors and biological inhibitors - thus promoting long and safe operational life for your liquid cooling products and high thermal efficiency.
See Other Water Cooling Coolants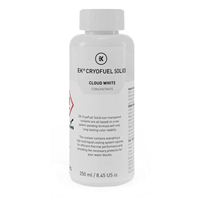 EKWB EK-CryoFuel Solid 250mL Concentrate - Cloud White
Usually ships in 5-7 business days.