CyberpowerPC CyberpowerPC SLC3000M Desktop Gaming PC

AMD Ryzen 7 2700 3.2GHz Processor; NVIDIA GeForce RTX 2080 8GB GDDR6; 16GB DDR4-2400 RAM; 500GB SSD
Overview
AMD Ryzen 7 2700 3.2GHz Processor
NVIDIA GeForce RTX 2080 8GB GDDR6
16GB DDR4-2400 RAM
500GB SSD
Microsoft Windows 10 Pro
Get the pinnacle of gaming performance with the CYBERPOWERPC Gamer Supreme series of gaming computers. This Gamer Supreme series features monstrous processing power from AMD's version of their Ryzen 7 processors combined with the latest and greatest NVIDIA graphics cards to handle even the most demanding games on the market. An immense RAM allows you to easily tackle system-intensive applications such as video editing, and ensures a lag-free multitasking experience. A lightning-fast SSD boot drive provides quick load times for your most used games and applications. The Gamer Supreme series looks as stunning as it performs, as all these high-end components are packaged in a striking, sleek chassis.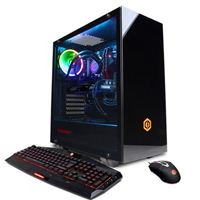 CyberpowerPC SLC3000M Desktop Gaming PC

AMD Ryzen 7 2700 3.2GHz Processor; NVIDIA GeForce RTX 2080 8GB GDDR6; 16GB DDR4-2400 RAM; 500GB SSD
Usually ships in 1-3 business days.