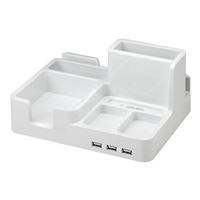 Artistic

Artistic Desktop Docking Station - White
Overview
The All-in-One desktop organization docking station, designed with you and your devices in mind. Organizes your desk by providing 6 separate and convenient spaces to store paper clips, note paper/sticky notes, pens/pencils, markers, and more. Keeps your desk or desktop free and clear of clutter. Includes a place to stand up your tablet and phone, with cutouts for your charging cables. The integrated USB cable can plug into the USB port on your computer or laptop, adding a convenient 3-port hub - perfect for easy access to USB thumb drives, USB card readers, etc. Plug the integrated USB cable into an USB AC adapter (not included), and charge your devices at up to 2-3 Amps.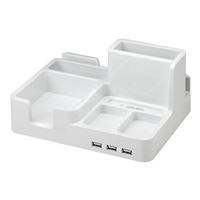 Artistic Desktop Docking Station - White
Usually ships in 5-7 business days.