ASUS

ASUS RT-AX88U AX6000 Dual Band Adaptive QoS Wireless AX Router w/ AiMesh Support
at Cambridge StoreSold Out

Overview
Built for high speed & gigabit ISP services the RT-AX88U offers that fastest Wi-Fi for current 802.11ac devices as well as nex gen 802.11ax devices. The AX88U can produce gigabit wireless speeds in real-world conditions while providing an extensive range and a high number of devices. The AX88U is built for those that demand fast & consistent streaming, uploading, gaming, browsing all at the same time.
Thinking of leaving your cable provider?

You'll find helpful articles and FAQs about cutting the cord in our Tech Center.
---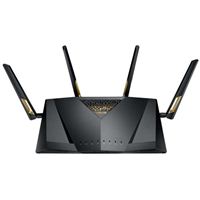 ASUS RT-AX88U AX6000 Dual Band Adaptive QoS Wireless AX Router w/ AiMesh Support
at Cambridge StoreSold Out