ASUS

ASUS ROG Strix Z390-H Gaming LGA 1151 ATX Intel Motherboard
Save $30 when bundled with a compatible eligible processor
Overview
ROG Strix Z390-H Gaming revitalizes the classic ROG red-and-black color scheme, adding a futuristic cyber-text pattern for a stunning modern style. It's loaded with essentials, including the latest connectivity plus intuitive ROG software optimization. All this and more makes ROG Strix Z390-H Gaming the perfect choice for all types of gamer and any level of ambition.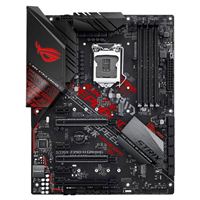 ASUS ROG Strix Z390-H Gaming LGA 1151 ATX Intel Motherboard
Usually ships in 1-3 business days.