QVS

QVS 3.5mm TRS Male to 1/4" TRS Male Audio Conversion Cable 10ft - Black
Overview
This conversion cable convert 3.5mm stereo (left/right) to 1/4 TRS audio connection. It connect's headphone with 3.5mm port to mixing board's 1/4 headphone jack. It also work with headphone with 1/4 port to a computer or tablet with 3.5mm port.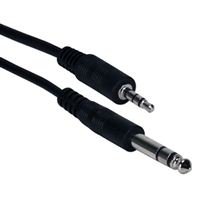 QVS 3.5mm TRS Male to 1/4" TRS Male Audio Conversion Cable 10ft - Black
Usually ships in 1-3 business days.