EKWB

EKWB EK-Vector RTX 2080 RGB Water Block - Nickel/Plexi
Overview
The EK-Vector RTX 2080 RGB - Nickel + Plexi high-performance water block is specially designed for multiple NVIDIA GeForce RTX Turing based graphics cards. The water block itself uses the signature EK single slot slim look, and it covers the entire PCB length. This sophisticated cooling solution will transform your beefy graphics card into a minimalistic, elegant piece of hardware.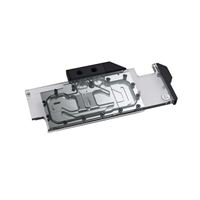 EKWB EK-Vector RTX 2080 RGB Water Block - Nickel/Plexi
Usually ships in 1-3 business days.