Thermaltake

Thermaltake Luxa2 EnerG Bar 45W Universal Laptop Adapter
Overview
Quickly charge your laptops with a powerful 45W adapter. The EnerG Bar is compatible with 99% of laptops with 10 interchangeable DC output controlled tips. High power conversion circuitry boosts energy efficiency by up to 10%. Ultra slim weight is perfect for travel. Charge easy with built-in over current, over voltage, over temperature, and short-circuit protection.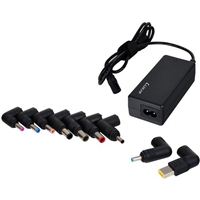 Thermaltake Luxa2 EnerG Bar 45W Universal Laptop Adapter
Usually ships in 5-7 business days.