Accessory Power

Accessory Power SonaVERSE UBR Wired Soundbar Speaker
Overview
Add big sound to your desktop computer with the SonaVERSE UBR Soundbar from GOgroove. This compact soundbar fits under your computer monitor and is angled upwards, directing audio towards your ears instead of your chest. Its dual drivers put out a combined 6W RMS power and range from 95 Hz to 20 kHz.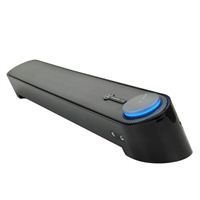 Accessory Power SonaVERSE UBR Wired Soundbar Speaker
Usually ships in 1-3 business days.