EZQuest Inc.

EZQuest Inc. USB-C Multimedia Charging Adapter 3 Ports (HDMI 4K, USB 3.0, 100W USB-C Power Delivery
Overview
The EZQuest USB-C Multimedia Charging Adapter connects your MackBook's USB-C ready computers, smartphones and tablets USB-C port to an HDMI display, while also connecting a standard USB device and a USB-C charging cable. Charge, stream movies in full 4K HDMI, and stay connected with your standard USB port all at once. Full Video Quality. Mirror your MacBook display to your HDMI display in up to 1080p at 60Hz or UHD (3840x2160) at 30Hz. It also outputs video content such as movies and home videos. Simply connect the adapter to the USB-C port on your MacBook and then to your TV or projector via an HDMI cable (sold separately). Stay Connected, Stay Charged.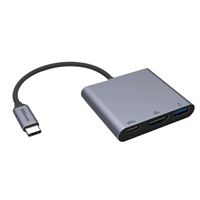 EZQuest Inc. USB-C Multimedia Charging Adapter 3 Ports (HDMI 4K, USB 3.0, 100W USB-C Power Delivery
Usually ships in 5-7 business days.