MSI

MSI Gaming X Trio GeForce RTX 2080 Triple-Fan 8GB GDDR6 PCIe Video Card
Buy select RTX 20 Series video cards, desktop, or laptop, get Modern Warfare
Available for In-Store Pickup Only.

Overview
When it comes to next-gen gaming, its all about realism. GeForce RTX 2080 is light years ahead of other cards, delivering truly unique real-time ray-tracing technologies for cutting-edge, hyper-realistic graphics. GeForce RTX graphics cards are powered by the Turing GPU architecture and the all-new RTX platform. This gives you up to 6X the performance of previous-generation graphics cards and brings the power of real-time ray tracing and AI to games.

For a limited time, Buy a qualifying GeForce RTX 20-Series graphics card, gaming desktop, or gaming laptop., Get Call of Duty®: Modern Warfare®
The stakes have never been higher. Become a lethal Tier One operator with the power of NVIDIA GeForce RTX. The revolutionary RTX platform maximizes your performance and visual fidelity on PC with real-time ray tracing and super-powerful AI processing. As you delve into clandestine covert operations that affect the global balance of power or showcase your skills against the toughest enemies in fierce multiplayer battles, GeForce RTX delivers the ultimate PC gaming experience.
*Terms and Conditions apply.
Offer good through December 2, 2019 or while supplies last. © 2019 NVIDIA Corporation. All rights reserved. NVIDIA, the NVIDIA logo, GeForce RTX, and NVIDIA Turing are trademarks and/or registered trademarks of NVIDIA Corporation in the U.S. and other countries. Other company and product names may be trademarks of the respective companies with which they are associated. © 2019 Activision Publishing, Inc. ACTIVISION, CALL OF DUTY, and MODERN WARFARE are trademarks of Activision Publishing, Inc. All other trademarks and trade names are property of their respective owners.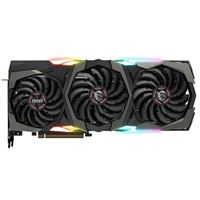 MSI Gaming X Trio GeForce RTX 2080 Triple-Fan 8GB GDDR6 PCIe Video Card
Available for In-Store Pickup Only.