MSI

MSI Gaming X Trio GeForce RTX 2080 Ti Triple-Fan 11GB GDDR6 PCIe Video Card

Overview
When it comes to next-gen gaming, its all about realism. GeForce RTX 2080 is light years ahead of other cards, delivering truly unique real-time ray-tracing technologies for cutting-edge, hyper-realistic graphics. GeForce RTX graphics cards are powered by the Turing GPU architecture and the all-new RTX platform. This gives you up to 6X the performance of previous-generation graphics cards and brings the power of real-time ray tracing and AI to games.

For a limited time, get Wolfenstein: Youngblood and Control with a purchase of a qualifying GeForce RTX 20 Series graphics card, gaming desktop, or gaming laptop.
Arm yourself against alternate-reality foes with a system powered by NVIDIA® GeForce RTX™. With the revolutionary RTX platform, maximize your performance and visual fidelity with real-time ray tracing and super-powerful AI-processing. Whether you are exploring other dimensions within the mysterious "Oldest House" building in Control, or liberating alternate 1980's Paris in Wolfenstein: Youngblood, GeForce RTX delivers the ultimate gaming experience.
*Terms and Conditions apply.
Offer good through Sept. 16, 2019 or while supplies last. Qualifying graphics cards, desktops, or laptops: GeForce RTX 2080 Ti, GeForce RTX 2080 Ti desktop, GeForce RTX 2080, GeForce RTX 2080 desktop, GeForce RTX 2080 laptop, GeForce RTX 2070, GeForce RTX 2070 desktop, GeForce RTX 2070 laptop, GeForce RTX 2060, GeForce RTX 2060 desktop, GeForce RTX 2060 laptop. Game must be redeemed with qualifying graphics card installed. Customer must meet the age requirement for the game to redeem. Regional/Country Requirements: Some coupons require that they be redeemed in specific regions or countries they were purchased in. Please redeem the code in the appropriate region/country.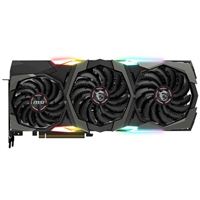 MSI Gaming X Trio GeForce RTX 2080 Ti Triple-Fan 11GB GDDR6 PCIe Video Card
at Fairfax StoreSold Out