Zotac

Zotac AMP GeForce RTX 2080 Triple-Fan 8GB GDDR6 PCIe Video Card
Buy RTX 2080 Ti or 2080 video card or system, get Battlefield V and Anthem
Available for In-Store Pickup Only.

Overview
The all-new generation of ZOTAC GAMING GeForce graphics cards are here. Based on the new NVIDIA Turing architecture, its packed with more cores and all-new GDDR6 ultra-fast memory. Integrated with more smart and optimized technologies, get ready to get fast and game strong like never before.

Whether you're knee-deep in the trenches of Battlefield V™ or soaring through alien skies in Anthem™, NVIDIA® GeForce RTX™ delivers the ultimate gaming experience. Triumph over adversity with the new NVIDIA Turing™ GPU architecture and the revolutionary RTX platform. Game on RTX.
For a limited time, purchase a qualifying GeForce RTX 2080 Ti or 2080 graphics card or gaming desktop, and get both Battlefield V and Anthem. Or, pick up a qualifying GeForce RTX 2070 graphics card or gaming desktop and get your choice of one of these incredible titles. You can also get Battlefield V or Anthem when you buy an RTX 2060 video card or laptop with an RTX 2060 video card.
*Terms and Conditions apply.
Offer good on qualifying products through February 25, 2019 or while supplies last. For promotion details and redemption instructions, visit: https://www.nvidia.com/en-us/geforce/campaigns/battlefield-v-anthem-bundle, or speak with your sales associate. Code may be used once. NOT FOR RESALE.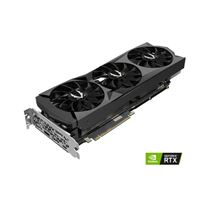 Zotac AMP GeForce RTX 2080 Triple-Fan 8GB GDDR6 PCIe Video Card
Available for In-Store Pickup Only.