EVGA

EVGA GeForce RTX 2080 Ti XC Ultra Dual-Fan 11GB GDDR6 PCIe Video Card
Buy RTX 2080 Ti or 2080 video card or system, get Battlefield V and Anthem

Overview
The EVGA GeForce RTX 20-Series Graphics Cards are powered by the all-new NVIDIA Turing architecture to give you incredible new levels of gaming realism, speed, power efficiency, and immersion. With the EVGA GeForce RTX 20-Series gaming cards you get the best gaming experience with next generation graphics performance, ice cold cooling, and advanced overclocking features with the all new EVGA Precision X1 software.

Limited time offer! Purchase any qualifying EVGA product, get free GRIP: Combat Racing game and exclusive EVGA vehicle skin. Qualifying products include:
Harnessing gravity defying physics alongside a bristling arsenal of outlandish weapons, GRIP delivers the fastest, most competitive racing experience ever. Scale walls, ceilings, and anything else you can get your tires onto as you master tantalizing tracks, tricks, and perform mind-blowing stunts to race your way across the cosmos.
Go to https://www.evga.com/articles/01293/evga-grip-promotion for more details and redemption instructions.
*Terms and Conditions apply.
The EVGA / GRIP game bundle offer is only available for purchasers of a new qualifying product as defined above. Offer good through March 3, 2019, or while supplies last. EVGA will not make exceptions for products purchased before or after this promotion or purchases not on the list of qualifying products. See your sales associate for more information.

Whether you're knee-deep in the trenches of Battlefield V™ or soaring through alien skies in Anthem™, NVIDIA® GeForce RTX™ delivers the ultimate gaming experience. Triumph over adversity with the new NVIDIA Turing™ GPU architecture and the revolutionary RTX platform. Game on RTX.
For a limited time, purchase a qualifying GeForce RTX 2080 Ti or 2080 graphics card or gaming desktop, and get both Battlefield V and Anthem. Or, pick up a qualifying GeForce RTX 2070 graphics card or gaming desktop and get your choice of one of these incredible titles. You can also get Battlefield V or Anthem when you buy an RTX 2060 video card or laptop with an RTX 2060 video card.
*Terms and Conditions apply.
Offer good on qualifying products through February 25, 2019 or while supplies last. For promotion details and redemption instructions, visit: https://www.nvidia.com/en-us/geforce/campaigns/battlefield-v-anthem-bundle, or speak with your sales associate. Code may be used once. NOT FOR RESALE.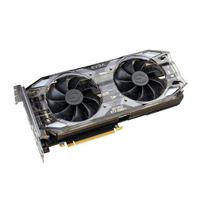 EVGA GeForce RTX 2080 Ti XC Ultra Dual-Fan 11GB GDDR6 PCIe Video Card
at Fairfax StoreSold Out