Hyperkin

Hyperkin X91 Wired Controller: Mega Man 11 Edition for Xbox One/Windows 10
Overview
The Blue Bomber is back in action, now with the help of the coolest 90s-style controller for the Xbox One and Windows 10 PCs. The Hyperkin X91: Mega Man 11 Edition controller combines the classic look of a 90s-style controller, the features of a modern controller, and a special stunning Mega Man 11 theme, featuring the Blue Bomber himself. This retro twist has a premium internal build that rivals its modern-style competitors. The officially Xbox-licensed X91 was designed with ergonomics in mind. It's comfortable to hold, even for long periods of time.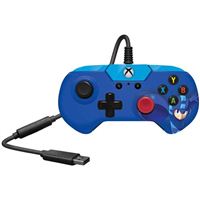 Hyperkin X91 Wired Controller: Mega Man 11 Edition for Xbox One/Windows 10
Usually ships in 1-3 business days.