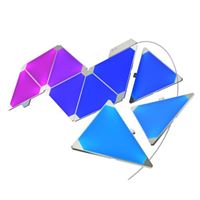 Nanoleaf

Nanoleaf Aurora Rhythm Smarter Kit - 9 Light Triangles
Overview
Nanoleaf Aurora Rhythm 9 lights up the night sky like the Aurora Borealis. Inspired by the famed Northern Lights, this aurora dances and groves to the music perfectly timed thanks to the music rhythm module. The innovative Aurora lights are fully customizable with the addition of the smartphone app that lets you control every aspect of the Aurora. You will be able to interact with Aurora via Siri, Alexa, and Google Assistant. Easily set up the 9 panels in any configuration you like, for a truly one of a kind cool art deco light. Stick up on your wall with the non-wall damaging 3m stickers, so you can keep redesigning your Aurora anytime you see fit.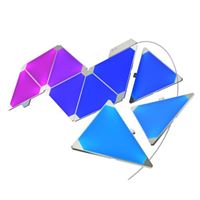 Nanoleaf Aurora Rhythm Smarter Kit - 9 Light Triangles
Usually ships in 1-3 business days.