QVS

QVS HDMI Male to VGA Male Video Converter Cable 6 ft. - Black
Overview
Connects any computer or tablet with HDMI port to projector, monitor, or display with VGA port. Supports high-definition resolution up to 1080p and PC resolution up to 1920x1080/60Hz. It is powered through the VGA port, and can be used for secondary monitor or extended desktop. NOTE: For tablet with Mini-HDMI or Micro-HDMI, an adaptor is needed to convert to regular HDMI port. Not compatible with Blu-Ray players.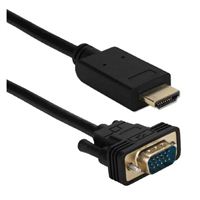 QVS HDMI Male to VGA Male Video Converter Cable 6 ft. - Black
Usually ships in 5-7 business days.