ProtoPlant

ProtoPlant 1.75mm For the Lulz Metallic Green HTPLA 3D Printer Filament - 0.5kg Spool (1.1 lbs)
Overview
To be honest, Lulzbot's company green is not my favorite color, but it was a fun challenge to recreate this color. I was inspired by the Lulzbot Mini 2 to make the Lulz Metallic Green HTPLA. Who knew adding sparkles would totally change my impression of this color? In the light it shifts from lemon to lime covering all the versions I've seen of this color. I find it shockingly beautiful and I hope you do to! Enjoy!!!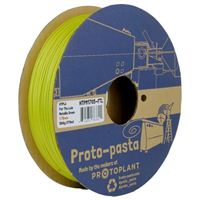 ProtoPlant 1.75mm For the Lulz Metallic Green HTPLA 3D Printer Filament - 0.5kg Spool (1.1 lbs)
Usually ships in 5-7 business days.