Savage

Savage Ringlight Accessory Kit
Overview
The Savage Ringlight Accessory Kit makes creating beauty video content a breeze with your own camera phone and ringlight! Beauty vloggers: mount the mirror directly under your camera phone inside the ringlight for a seamless makeup application while filming. Utilize the magnified mirror while keeping your perspective towards the camera and keeping your audience more engaged! Ringlight not included. This is an ideal accessory kit for the Savage Luminous Pro LED Ringlight.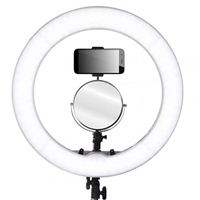 Savage Ringlight Accessory Kit
Usually ships in 1-3 business days.