Accell

Accell UltraAV DisplayPort Male to DisplayPort Male Version 1.2 Cable 13 ft. - Black
Overview
Accell DisplayPort cables offer superb performance and reliability. Manufactured to the latest DisplayPort 1.2 specification, this cable is engineered using the highest quality components for optimum signal transfer and maximum sound and picture quality. The UltraAV DisplayPort cable enables the connection of your DisplayPort supported computer to a monitor or other DisplayPort supported device. DisplayPort Version 1.2 cable is compliant to the DisplayPort version 1.2 specification and fully backward compatible to DisplayPort version 1.1a. This DisplayPort cable supports PC resolutions of up to 3840x2160, stereoscopic 3D graphics and all HDTV resolutions including 1080p and 4Kx2K.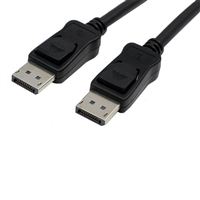 Accell UltraAV DisplayPort Male to DisplayPort Male Version 1.2 Cable 13 ft. - Black
Usually ships in 1-3 business days.