Overview
GHI Electronics BRAINPAD-BP2 Circuit Board is a powerful educational tool that can be used to teach kids, college students, and professionals. This board helps kids learn programming using the Visual Studio development environment. The BRAINPAD-BP2 circuit board can be used by students and professionals to learn about digital electronics and the connection between computing and the physical world.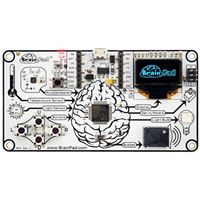 GHI Electronics BrainPad
Usually ships in 1-3 business days.