Kingston

Kingston 8GB 2 x 4GB DDR3-1333 PC3-10600 CL9 Dual Channel Desktop Memory Kit KVR13N9S8K2/8
Overview
KVR13N9S8K2/8 is a kit of two 512M x 64-bit (4GB) DDR3-1333 CL9 SDRAM (Synchronous DRAM), 1Rx8, memory modules, based on eight 512M x 8-bit FBGA components per module. Total kit capacity is 8GB. The SPDs are programmed to JEDEC standard latency DDR3-1333 timing of 9-9-9 at 1.5V. Each 240-pin DIMM uses gold contact fingers. Also features a low-profile fit.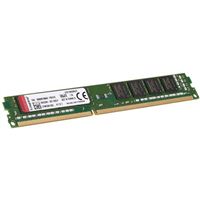 Kingston 8GB 2 x 4GB DDR3-1333 PC3-10600 CL9 Dual Channel Desktop Memory Kit KVR13N9S8K2/8
Usually ships in 1-3 business days.