ION Audio

ION Audio Tape 2 Go Digital Conversion Cassette Player
Overview
The Tape 2 Go Digital Conversion Cassette Player from ION Audio is a portable, handheld USB tape player that not only works with any cassette tape, but also allows you to transfer your tapes into digital music files compatible with iTunes and other such players. It has an easy-to-use USB connection for sending the music on your tapes right into your computer where included software facilitates the conversion from analog tape to digital music file. Indeed, ION's convenient and intuitive EZ Vinyl/Tape Converter software guides you through transferring your music and allows you to integrate the resulting audio with your iTunes music library.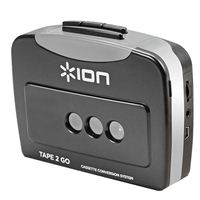 ION Audio Tape 2 Go Digital Conversion Cassette Player
Usually ships in 5-7 business days.