Proto-Pasta

Proto-Pasta 1.75mm Glitter Stardust Candy Apple Red HTPLA 3D Printer Filament - 0.5kg Spool (1.1 lbs)
Overview
Think hot rods and ruby slippers,this red is going to knock your socks off!!!! Words just can't describe it... Created from our highest quality, translucent HTPLA v2, this stuff is red and sparkly! Print with the ease of standard PLA with standard hardware and temperatures, but make fun, mesmerizing prints that stand out. Celebrate good times by printing ornaments, toys, and treasures. If you want to make a print more fun, just add glitter. Glitter Flake has little risk of clogging or wearing your nozzle, and it won't make a glitter mess, but beware, printing with glitter is sure to be addictive! Glitter particles are relatively small but have some orientation effects, giving top/bottom surfaces more shine than sidewall, so have some fun playing with orientation to see how the result changes!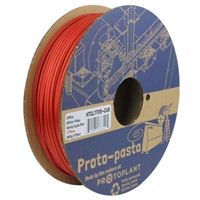 Proto-Pasta 1.75mm Glitter Stardust Candy Apple Red HTPLA 3D Printer Filament - 0.5kg Spool (1.1 lbs)
Usually ships in 5-7 business days.