Cirago

Cirago 4K HDMI 2.0 Bi-Directional 2x1 Switch
Overview
Bi-Directional switch has two modes: press the button on the switch to toggle between two HDMI video sources to one HDMI display, or a single HDMI video source between two displays. This switch supports HDCP pass through and is compatible with both Macs and PCs. Supports 4K resolution and also 3D.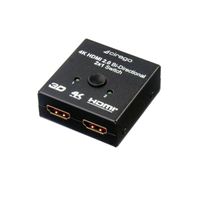 Cirago 4K HDMI 2.0 Bi-Directional 2x1 Switch
Usually ships in 5-7 business days.