Spigen

Spigen Classic C1 Case for iPhone X - Graphite
Overview
Bringing back the look of a classic to the latest iPhone X. Inspired by the iconic iMac G3, C1 bears all the bright colors and nostalgia of the 2000s. The translucent exterior reveals all the intricacies of its dual-layered makeup while providing everyday drop defense. Best of all, the case is designed to stay pocket-friendly and ergonomic in every grip. Say hello again with the C1 for the iPhone X.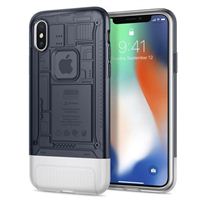 Spigen Classic C1 Case for iPhone X - Graphite
Usually ships in 1-3 business days.