EZQuest Inc.

EZQuest Inc. USB 3.1 (Gen 2 Type-C) Male to USB 3.1 (Gen 2 Type-C) Male Charge/ Sync USB Cable 3.3 ft. - Black
Overview
EZQuest's USB-C Cable is designed using SuperSpeed USB 3.1 technology, which minimizes wait time for charging and syncing devices. With data transfer rates of 10 Gbps, the technology enables movies to be downloaded in a little over a minute. Power delivery of up to 100 watts and with smart power management extends battery life by providing higher bandwidth and greater power efficiency for quick charge. Smart USB-C 3.1, Gen 2 technology provides intelligent and flexible power management enabling laptops to provide high power delivery to battery powered devices. Bi-directional power delivery means that the device with the power can provide power and data at the same time. This optimizes power management by allowing each device to take only the power it requires, and to get more power when required. With a 10 Gbps data transfer rate, real-time streaming is clear and uninterrupted. There is no wait time required. The USB-C connectors are designed to be reversible, so you don't have to worry about which side of the connector is up when you plug in the cable. Compliance testing SuperSpeed USB certified, meaning that this cable has been certified by USB-IF to meet all electrical, mechanical, and environmental standards, ensuring a superior user experience.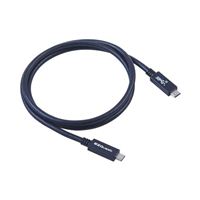 EZQuest Inc. USB 3.1 (Gen 2 Type-C) Male to USB 3.1 (Gen 2 Type-C) Male Charge/ Sync USB Cable 3.3 ft. - Black
Usually ships in 5-7 business days.