IOGear

IOGear USB-C 4-Port Hub w/ 100 W Power Delivery Pass-Through
Overview
This 4-Port USB Hub bridges the gap between your computer and older USB technology devices. Expand a single USB-C port to connect and charge a smartphone and tablet, digital camera and peripherals such as a printer, external hard drive and much more. With the USB 3.1 Gen 2 specification, this compact hub delivers lightening-fast connectivity and file transfer capabilities. Transfer high bandwidth data like large files, photos, and video at 10Gbps speeds.Immediately expand your desktop or laptop's USB-C port to accommodate up to two USB Type-A 3.0 devices while supporting older USB 2.0 and USB 1.1 legacy peripherals like a keyboard, mouse, printer, or external hard drive. Don't need the expansion port? Connect your smartphone or tablet to the ports to charge up and transfer data.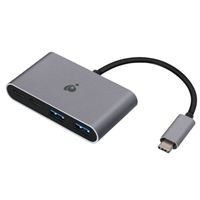 IOGear USB-C 4-Port Hub w/ 100 W Power Delivery Pass-Through
Usually ships in 1-3 business days.