Other World Computing

Other World Computing Mercury Elite Pro USB 3.0 Hard Drive Enclosure Kit with +1 USB Expansion Enclosure Kit
Overview
Mercury Elite Pro with +1 is the workhorse project drive for creative professionals that delivers an extra USB port for extended connectivity. Now you don't need to sacrifice a USB port to add external storage. Engineered to meet the needs of creative pros, Mercury Elite Pro With +1 is an outstanding performer, delivering speed to master any workflow - up to 219MB/s. Whether you're an audio professional working with a multi-track session, a photographer editing your latest shoot, or a video editor in post-production, Mercury Elite Pro With +1 is the dependable external drive you can rely on. Mercury Elite Pro With +1 is your dependable workhorse drive, but also plays the role of expansion hub. With a second high power USB 3.0 port, you can add another USB device, including a bus-powered drive, delivering even more flexibility to your workflow.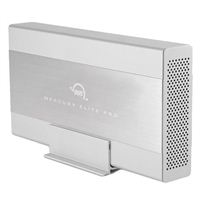 Other World Computing Mercury Elite Pro USB 3.0 Hard Drive Enclosure Kit with +1 USB Expansion Enclosure Kit
Usually ships in 1-3 business days.