Micro Connectors

Micro Connectors SATA III Data Cable 20" with Locking Latch 2 Pack - Black
Overview
Supports transfer rates up to 6G depending upon the peripherals used. This serial ATA cable is especially designed to handle the differential signals implemented in today's technology, while delivering increased throughput and reduced data packet loss. SATA 3.0 compatible with transfer rates up to 6 Gbps!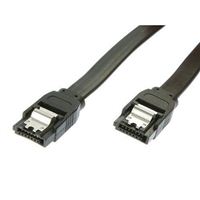 Micro Connectors SATA III Data Cable 20" with Locking Latch 2 Pack - Black
Usually ships in 1-3 business days.